If you're craving barbecue in the Farmington area, there are several places in and around town that are serving just the meats you're after. Whether you want a classic barbeque plate with hearty southern sides or a tower of nachos topped with barbecued meat, you can find just what you're looking for around here. Check out these delicious destinations for barbecue in and around Farmington, Missouri.
Dexter Bar-B-Q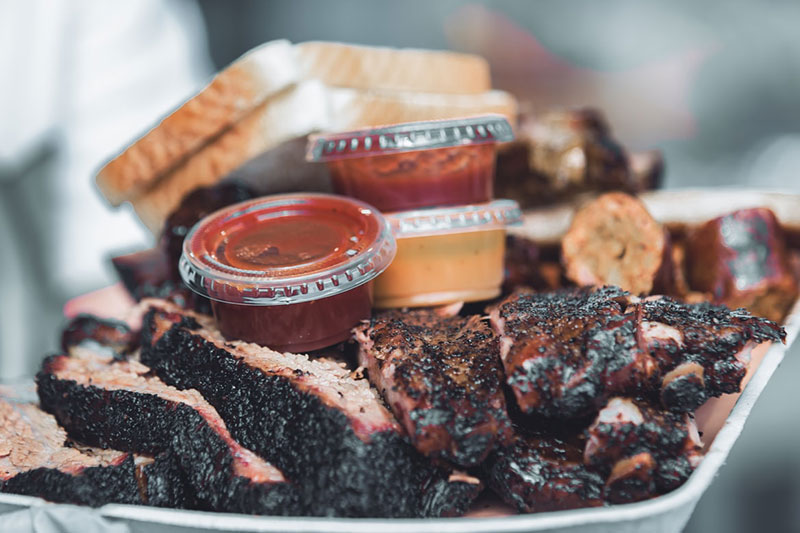 Image via Unsplash by Luis Santoyo
763 Maple Valley Drive, Farmington
Dexter's Bar-B-Q makes it easy to get your barbeque fix with call-ahead pickup service, drive-thru ordering, and dine-in options. The generously sized family meals are a great choice when you want to serve family dinner at home but don't have time in your busy day to prepare a meal from scratch.
Dexter's hearty barbecue dinners are available with your choice of ribs, chopped barbecue pork, beef brisket, or turkey. If you simply can't choose, you can also order the combo plate with any two or three meats. All dinners come with two sides and Texas toast. You can choose from over a dozen classic sides including potato salad, coleslaw, baked beans, green beans, okra, and fries.
If you'd like to try your barbecue in a different form, you can order a barbecue baked potato, meat salad, or pulled pork nachos. Chicken is available on Wednesdays only as either a half or whole chicken. If you choose to dine in, you can complete your meal with free soft-serve ice cream.
Sugarfire Smoke House
670 Walton Drive, Farmington
You can satisfy any barbecue craving at Sugarfire Smoke House with their expansive menu that includes ribs, turkey, salmon, pulled pork, and brisket. You can get these meats in the form of several distinctive specialty meals. If you have a big appetite, try the Big Muddy, a massive brisket sandwich topped with smoked sausage, horseradish sauce,barbecue sauce, lettuce, and pickles. The Brisket Cheesesteak is another innovative sandwich featuring brisket on a hoagie roll topped with onions and peppers.
If some of the diners in your party aren't in the mood for barbecue, you'll still find plenty of satisfying picks on the menu. Try the chicken biscuit featuring breaded fried chicken in hot sauce, served on a biscuit slathered in honey butter. Sugarfire Smoke House serves single and double burgers as well for those desiring a classic bite. If you're after something lighter, try the chef salad or smoked turkey Caesar salad.
If you manage to leave room for dessert, you'll find the sweet treats here are as satisfying as the rest of the menu. The pie shakes are just what they sound like, featuring your chosen pie slice and ice cream blended together into a slurpable treat. You can also order a traditional milkshake with fresh ice cream or an ice cream float.
Twins BBQ and Grill
959 Highway AA, Farmington
Twins BBQ is a family-run restaurant slated to open in the spring of 2022. If you're looking for something new to try in the small town of Farmington, this destination is set to offer an appealing option.
The menu will include barbecue options like sliced brisket, ribs, pulled pork, pork steak, shredded chicken, and brisket cowboy chili. If you want a little of everything, the sampler platter includes pulled pork, pulled chicken, sliced brisket, ribs, and house-made sausage. All of the barbecue plates come with garlic bread, and most include one side.
Other options on the menu include salads, smashburgers, sandwiches, and even pasta. You can enjoy chicken fettuccini Alfredo with juicy grilled chicken or smoked pork meatballs and spaghetti with a house-made meat sauce. The appetizer menu also features a number of dishes that could easily serve as mains when not shared, such as wings, fried lasagna, toasted ravioli, street tacos, loaded French fries, and chicken quesadillas.
For the kids, you'll find a small selection of go-to's including hot dogs, macaroni and cheese, chicken strips, and grilled cheese.
The Pig Bar-B-Q
910 State Hwy OO, Fredericktown
The legacy of The Pig Bar-B-Q dates back to 1948 when Norman Seib started a small restaurant serving barbecue pork sandwiches. The pork is carefully prepared over an open pit and seasoned with a mouthwatering sauce. The secret recipe for the barbecue sauce has been passed down through each subsequent owner in the restaurant's history. Though The Pig has changed locations and expanded its menu over the decades, it's never stopped serving its signature dish.
In addition to its famous barbecue pork sandwich, The Pig also serves chicken sandwiches, pork tenderloins, burgers, hot dogs, salads, chili, and more. The appetizer and side menu includes nearly anything you could want to fill out your meal with options like French fries, tater tots, onion rings, mushrooms, and cauliflower, all available with or without cheese. You can also pair your sandwich with fried pickles, fried green beans, macaroni and cheese, baked potatoes, and more.
Finish your meal off with a milkshake if you have room! The Pig even offers delivery for the ultimate convenience.
Baylee Jo's Barbecue
1315 MO-21, Ironton
Baylee Jo's has been in business since 1962. Though it's changed management in that time, this restaurant continues to serve a wide menu of favorites. You can satisfy your barbecue craving with a pulled pork sandwich, rib dinner, smoked chicken, or barbecue bacon cheeseburger. The loaded pub chip nachos and loaded potato skins come topped with pulled pork or chicken as well.
The menu also includes several other dishes for those who don't want barbecue, such as crab legs, Baja tacos, crab cakes, salads, fettuccini Alfredo, and steaks. Baylee Jo's also has a full bar serving cocktails and domestic bottled beer. Stop in on a Tuesday and the kids will eat for free.
Did we include your favorite barbecue restaurant on the list? If we missed a mouthwatering spot, contact our team at CarSmart of Farmington and let us know. We love to hear your suggestions! At CarSmart, we want to make sure we're pointing our customers in the best direction for delicious eats when they drive off the lot.