As the weather starts to warm up, you may want to spend more time outside enjoying the sunshine. Playing a few rounds of golf is the perfect way to do just that. Fortunately, there are a variety of fantastic golf courses near Farmington, Missouri, where you can enjoy a great game. The next time you're ready to hit the links, make plans to check out a few of these top golf courses near Farmington.
Crown Pointe Golf Club & Resort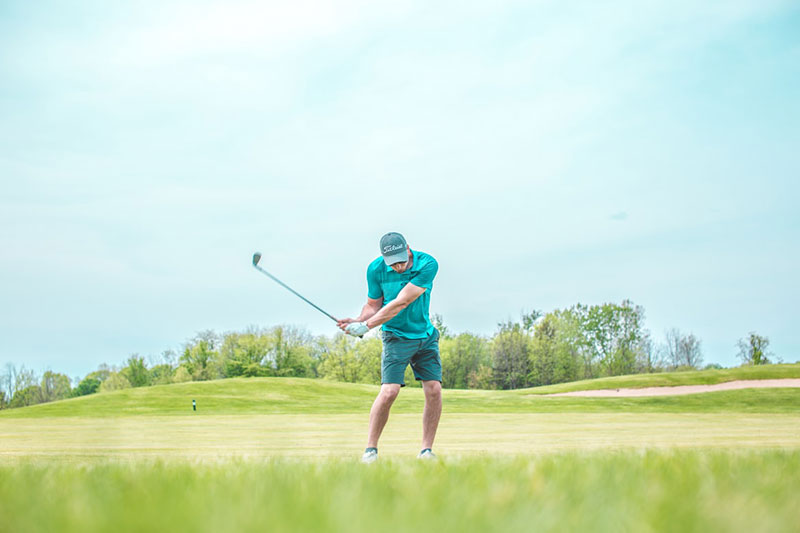 Image via Unsplash by Courtney Cook
Crown Pointe Golf Club & Resort is considered one of the most picturesque courses in Missouri. Nestled in the scenic countryside of Farmington, this course combines gently rolling hills with over 40 bunkers and a variety of water hazards to create a course that will challenge golfers of all skill levels. The 18-hole, par-72 course also features five sets of tee boxes.
If you need some new gear, the pro shop has everything from apparel to clubs so you can find exactly what you need to take your game to the next level. The pro shop is also home to the club's indoor putting green. This is where you can test out the selection of putters without having to leave the store. Once your game is over, you can head to the 19th Hole Bar & Grill for a hot meal and a cold drink.
Plus, when you play at Crown Pointe, you can easily turn your golf day into a golfing getaway. That's because the course is located at a resort that also offers upscale lodging, an indoor swimming pool, tennis courts, a fitness room, a business center, and more.
St. Francois Country Club
The 18-hole golf course at St. Francois Country Club in Farmington features 6,568 yards of challenging play. While the well-groomed and tree-lined fairways require precision and concentration to play, the greens of this beautiful par-72 course are also friendly to new golfers. Plus, the staff is always willing to offer a few tips and tricks that can help you play your best round.
Of course, golf isn't the only activity available at the country club. When the weather is warm, the in-ground seasonal pool is the perfect place to kick back and cool off. The club also has a lovely 5,000-square-foot event facility that has a fully stocked bar and catering services. It's the perfect place to go to check out all of the different events offered at the club throughout the year.
Hurryville Driving Range and Par 3 Course
Whether you don't have enough time to devote to a full game of golf or you're simply looking for a place where you can practice your swing, Hurryville Driving Range and Par 3 Course in Farmington is the place to go. This family-owned golf practice facility and driving range has a nine-hole course that's clean and well-kept. The par-27 course is ideal for both beginners who are looking to learn the game and experienced golfers who want to sharpen their skills.
The driving range has 30 tees where you can practice your aim and accuracy. If you finish your warmup at the driving range and you still want to play some more golf, head out to the course. These holes have all the features you enjoy on larger courses in a more compact size, including tree-lined fairways, a water hazard, and challenging sand bunkers.
Terre Du Lac Golf Course & Country Club
If you travel about 20 miles northwest of Farmington to Bonne Terre, you'll find Terre Du Lac Golf Course & Country Club. This lovely country club has two exciting courses that offer unique challenges and beautiful views. The Skyview Course is the larger of the two courses.
This 18-hole public course was designed by Roy Albert Anderson and opened in 1969. The surrounding lakes of Terre du Lac and the St. Francois mountains in the background make for a truly memorable and scenic game. The course features gently rolling fairways and landscaped cart paths and tee boxes. The water hazards and sand-trapped greens add to the challenge of the par-72 course.
If you don't have as much time to play or you're a beginning golfer, the nine-hole Valley Course is a great option. This par-36 public course offers its own scenic views as it meanders through a wooded valley. Plus, even though it's shorter than the Skyview Course, its numerous water hazards and narrow fairways will still challenge experienced golfers. Other amenities available at the country club include golf tournaments, a swimming pool, and pickleball courts.
Ste. Genevieve Golf Club
Once you play the par-72, 18-hole course at Ste. Genevieve Golf Club, you'll want to come back and enjoy it again and again. To get to this delightful course, simply head about 21 miles northeast of Farmington to Ste. Genevieve. The golf club is located just a few minutes from historic Ste. Genevieve, which is the oldest permanent French settlement west of the Mississippi River.
With four sets of tees, you can easily find the right challenge to meet your skill level. While experienced players will love the variety of water hazards and sneaky sand bunkers, new players will appreciate the smooth fairways lined with pine trees. Plus, everyone will love the scenic landscape surrounding the course.
If you need to stock up on gear or you're looking for something new, be sure to stop by the pro shop and browse the collection. You can also sign up for lessons with a certified instructor at the shop. After playing a round on the course, you can head to the full-service restaurant and bar in the clubhouse. This updated clubhouse is a great place to unwind with a cold drink or enjoy a sandwich or burger.
When the weather warms up and those of us at CarSmart of Farmington want to play a few rounds of golf, these are the courses near Farmington we love to visit. Did we forget to mention one of your favorite golf courses? If so, please be sure to contact us and let us know so we can add it to this list!