Farmington, Missouri, enjoys a picturesque location situated on the edge of the Ozark Mountains and surrounded by nine state parks. While outdoor activities abound in warm weather, residents may find themselves wondering where to go when it starts to get cold. Here are a few suggestions for winter fun in and around Farmington. With everything from winter hikes to cozy meals with Santa, there's something for everyone.
Pick Out a Tree at Meert Tree Farm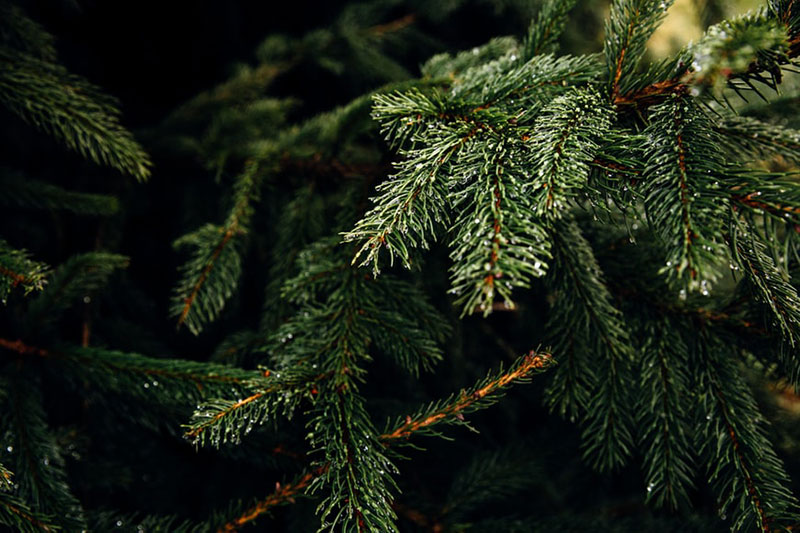 Image via Unsplash by andregorham2
The Meert Tree Farm features a 150-acre lot with more than 25,000 Christmas trees to choose from each season. The Christmas field and store opened back on Nov. 26, 2021, for the season. You can cut your own white pine, Scotch pine, Virginia pine, or Norway spruce. You will also find conveniently pre-cut Michigan Fraser fir, Michigan concolor fir, and Michigan Scotch pine trees. If you prefer a live tree, you can purchase ball and burlap white pine and Norway spruces between 5 feet and 7 feet tall.
Meert Tree Farm also features a Christmas store with a wide selection of decorations and ornaments. The wreaths and centerpieces are made fresh daily to give your home a special touch of holiday cheer. For custom orders, you can stop into the wreath room and visit with any of the employees.
Hike Hickory Canyons
The Hickory Canyons Natural Area is just northeast of Farmington. You can reach the canyons by taking Highway 32 east from Farmington. From there, take Route C north for 3 miles and Sprott Road west for 1.5 miles. The natural area covers 280 acres. There are two marked trails in Hickory Canyons that offer picturesque winter hiking opportunities. These trails are relatively short, so you can enjoy the scenery without having to spend the whole day outside in the chill.
The more stunning of the trails is the quarter-mile out-and-back trail on the south side of Sprott Road. This takes you to a steep box canyon and cascading waterfall that provides a breathtaking sight when frozen. On the other side of Sprott Road, you'll find a 1-mile loop that traverses through a distinctive mesic sandstone forest. The forest is dominated by white oak, sugar maple, northern red oak, deciduous holly, pawpaw, and spicebush.
Enjoy Wine Tasting at Twin Oaks Vineyard & Winery
The Twin Oaks Vineyard and Winery is open year-round, offering a warm and cozy spot to enjoy a winter afternoon. The tasting room serves Twin Oaks's award-winning wines as well as beer and premium cocktails. The wine list includes a little of everything with two dry whites, three dry reds, two semi-sweet wines, three sweet wines, the Razzle Dazzle Raspberry dessert wine, and the Royal Ruby port-style wine.
If you're looking for a venue to host your holiday party, you can book the winery for private events as well. The tasting room holds up to 50, and the Glass House has room for 150 guests.
Visit the Farmington Family Fun Center
When the weather is simply too cold and icy for outdoor fun, the Farmington Family Fun Center is the perfect destination for winter activities. The center features a 70-foot bounce house, 22 bowling lanes, a nine-hole mini-golf course, a black light roller rink, and an arcade. Every other Friday and Saturday night you can take the excitement to another level with Extreme Bowling featuring black lights and music.
You can fuel up for the fun with a wide selection of snacks and drinks available for purchase in the Family Fun Center. These include burgers, hot dogs, chicken strips, wings, mini tacos, pizzas, nachos, soft pretzels, mozzarella sticks, and more. Fountain sodas, bottled water, and bottled or draft beers are on hand as well.
Take a Dip at the Farmington Civic Center
Swimming is a year-round activity in Farmington. Despite the weather, you can take a dip any time of the year at the Farmington Civic Center. The indoor lap pool has six 25-yard lanes. In the leisure pool, you'll find a lazy river, raindrop fountain, 24-foot corkscrew slide, small fish slide, and vortex whirlpool. The center offers swimming lessons, lap swimming, and water fitness classes throughout the year.
Pick Up a Dinner/Dessert Movie Bundle From the Library
The Farmington public library goes above and beyond when it comes to providing exceptional experiences for its patrons. You can plan a cozy winter evening with one quick stop when you sign up for the Dinner/Dessert and Movie Bundle from the library. This package includes cookbooks, DVDs, popcorn, and movie candy so you'll have everything you need for a special night in.
Simply fill out the online form requesting your bundle and letting the staff know what you're looking for. You can let the staff know your favorite movie genres, preferred cuisine, and experience level with cooking or baking. The resulting package will help you make a great meal to enjoy with your film. You can even request cookbooks that cater to kids and get the whole family in on the fun as you plan a warm evening in this winter.
Enjoy the VFW Breakfast
Help support the local Veterans of Foreign Wars and gather with friends and neighbors for a hot breakfast on cold winter mornings with the Farmington VFW Wednesday morning breakfast. The event is open to the public and takes place every Wednesday morning between 7 am and 9:30 am. For just $7, you'll enjoy an all-you-can-eat buffet featuring eggs, sausage, bacon, biscuits and gravy, and hash browns. Drinks are included as well.
If you're off to tackle a busy day of holiday shopping, snow shoveling, or other activities, you can also opt for a to-go box. Fill your box up and take this hearty, affordable breakfast with you on the road. Pick up your meal at Farmington VFW Post 5896 (814 E. Karsch Blvd.).
Do you know of other great winter activities in or around Farmington, Missouri? If we missed an entertaining destination or event, contact our team at CarSmart of Farmington and let us know! We love having all the best suggestions for our customers to check out when they drive off the lot.