Are you looking for some fun and entertaining activities that the entire family will enjoy? While it can be difficult to please everyone, we're certain the family-friendly activities listed below will amuse and delight everyone in your group. Take advantage of all that Farmington has to offer by visiting the following locales.
Farmington Family Fun Center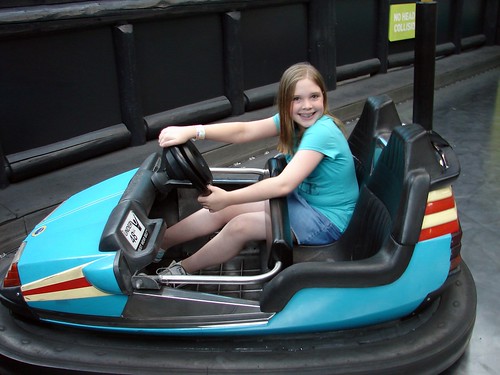 Image via Flickr under CC BY 2.0 by Mark Gstohl
Bring your family to the Farmington Family Fun Center for premium entertainment everyone will enjoy. More than just a bowling alley, this thrilling game center provides hours of amusement with its roller skating, arcade games, mini-golf, and more.
With over 20 bowling lanes, there is plenty of room for both competitive bowling leagues and families who want to spend some leisurely recreational time together. Treat your family to something special on Extreme Bowling nights, which is bowling with black lights on and festive music playing on the loud speaker. The arcade features the latest video games that will get your adrenaline moving, from NASCAR to The Terminator. There's also a wide variety of redemption games to play that will earn tickets you can redeem for some amazing prizes.
Don't forget to take your kids to the 70-foot bounce house, where they can spend hours bouncing and sliding to their heart's content. Perhaps you want to take a turn at the bumper cars where you can crash, collide, and bump into family members. The 9-hole indoor mini-golf course contains elevated greens, waterfalls, and a beautiful Koi Pond. Last but not least, the whole family can end the evening on the roller skating rink, moving and grooving to funky music and colorful lights.
Liberty Farms
Teach your children to enjoy the healthy fruits the earth provided by visiting Liberty Farms. This blueberry and blackberry farm offers locally grown and harvested berries. You can pick and eat these delicious fruits, and also bring some home for making homemade jam, tasty pies, or simply to keep in the refrigerator for a healthy snack.
Liberty Farms is owned and operated by Mark & Joy Boyer. People come from far and wide for their flavorful farm berries. You can even bring your family pet as long as you keep them on a leash the entire time you're there.
Crown Ridge Tiger Sanctuary
Crown Ridge Tiger Sanctuary is a non-profit big cat rescue located about 30 miles from Farmington in St. Genevieve, MO. This essential animal habitat provides permanent lifelong care for abused, neglected, and unwanted big cats. Crown Ridge does not believe in selling, breeding, or trading these beautiful animals. They ensure that all of their tigers receive exceptional physical and mental care and live in a healthy and caring environment.
As an educational facility, Crown Ridge educates the public about the ongoing captive wildlife crisis. Their goal is to give animals a voice by speaking up for them since they cannot speak for themselves. When you visit this tiger sanctuary, you'll soon discover the deep passion they hold for these big cats, believing their ideal home is in the wild.
Crown Ridge is a great place to bring your family to learn more about tigers and why they deserve to be in their own natural habitat and not in captivity. Your kids will love meeting the resident big cats on one of their tours and are sure to make lasting memories after visiting the sanctuary.
Choose from three different tours that all provide a varied experience. The general tour is a 45-minute guided walking tour of the entire Crown Ridge Tiger Sanctuary. To see the animals interacting with their environment and out in the yard first thing in the morning, take advantage of the Early Bird tour which lasts about one hour. For a complete tiger sanctuary experience, sign up for the VIP tour. This 90-minute guided walking tour gives you an inside look at the daily operations behind Crown Ridge. It also includes a 4 x 6 photo of your choice of one of their amazing big cats.
Farmington Water Park and The River's Edge Splash Pad
Farmington Water Park and The River's Edge Splash Pad offer hours of entertainment for the entire family. Open between Memorial Day and Labor Day, this park and interactive playground is an exciting place to spend a summer afternoon. Cool off in the heat by floating in the Lazy River. Watch as your kids have hours of fun sliding down one of their two water slides. Adults and children alike will thoroughly enjoy splashing and playing in the River's Edge Splash Pad.
Take advantage of all the water park and splash pad have to offer by renting this fun and entertaining space for birthday parties, private rentals, or group activities.
Bonne Terre Mine
Bonne Terre Mine is a unique adventure through the world's largest freshwater subterranean lake. Named one of the top 10 adventures in America by National Geographic Adventure, the mine provides amazing diving opportunities as well as underground boat and walking tours. You and the whole family will see mammoth architecture, submerged ore carts, wrapped pillars, scaffolding and staircases, and the famed No. 1 elevator shaft. You'll also get a glimpse of the ancient abandoned overhead wooden catwalks that are still suspended about 100 feet above the lake.
Before, the mine was filled with water and created this gorgeous underground resort-like experience, a massive pump system kept the water at bay while miners pushed even further underground. Once all the lead was mined out, the pumps were turned off and water trickled in filling the void. Today, a consistent level of water is maintained by mine owners Doug and Catherine, in order to provide diving adventures, boat rides, and walking tours.
The Billion Gallon Lake, as it's now called, is crystal clear with over 100 feet of visibility. You can view parts of the mine that are now covered with water due to its transparent qualities. This dive resort is one of the most unusual yet beautiful underwater sites in the world.
Which one of these family-centered activities will you plan to attend soon? Did we miss a favorite of yours in the Farmington area? If so, drop us a line and let us know. We'll be sure to add it to our list.