If you're looking for a pleasant way to spend a day while enjoying some award-winning Missouri wines, take a trip along the Route du Vin Trail. This trail connects five wineries in Ste. Genevieve and Farmington produce some of the most delicious vintages in the Southeast Missouri region. Some offer free samples, so you can try different varieties. Others pair their wines with delectable food offerings to provide a unique culinary experience. Use this guide to learn more about the different wineries you can experience as you sip and savor along the Route du Vin Trail.
Cave Vineyard Winery and Distillery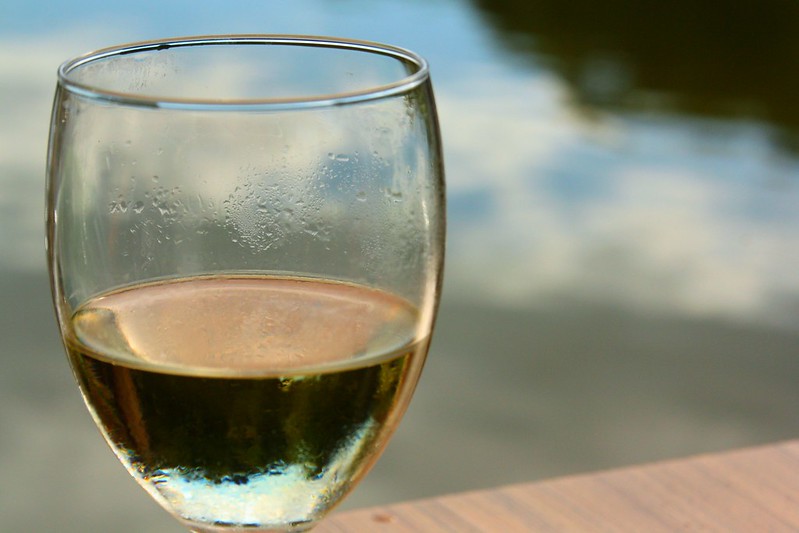 Image via Flickr under CC BY 2.0 by blondinrikard Images
For a truly unique experience, visit the Cave Vineyard Winery and Distillery, where you can sip your wine inside a natural cave. The Saltpeter Cave, located directly underneath the winery's tasting room, seats about 100 people and stays cool even during the hot summer season. If you prefer to sit outside, you can enjoy sweeping views of the vineyard at the winery's outdoor pavilion. You can even bring a picnic lunch to have with your wine.
The family-run winery produces various dry, semi-dry, semi-sweet, and sweet wines, primarily made from grapes grown on the 15-acre property. Some wines feature floral or fruity notes, while others have hints of spice. Microbrews are also available, and the winery serves signature cocktails made from its own spirits on Saturdays in May through November. There's even a biscotti bar available if you want a treat to munch on while you enjoy your drink.
Location: 21124 Cave Road, Ste. Genevieve
Hours: 10 a.m. to 6 p.m. daily from April to October; 10 a.m. to 4 p.m. daily from November to March
Charleville Brewery and Winery
In the western part of Ste. Genevieve County, Charleville Brewery and Winery serves handcrafted wines and beers. The winery's tasting room and patio, which the winery plans to reopen in the summer of 2022, provide spectacular views of the Saline Creek River Valley amid a comfortable, relaxed atmosphere. There's also a refurbished 1860s log cabin for guests on the property, and the winery plans to open a new venue soon for weddings and other events.
Charleville Brewery and Winery offers seven kinds of wines, from a sweet red wine made from Missouri grape varieties to an off-dry chardonel with hints of honey. If you prefer beer, choose from classic favorites, such as an amber ale or medium-bodied stout, or a rotating lineup of seasonal beers like Pineapple Mango Blonde Ale, Whiskey Scented Santa Imperial Porter, and Box of Chocolate Belgian Quadruple. No matter what you choose to sip, you can't go wrong with any of the offerings at Charleville Brewery and Winery.
Location: 16937 Boyd Road, Ste. Genevieve
Hours: Hours vary, so be sure to check the website for details
Chaumette Vineyards and Winery
While you can certainly make a quick stop to try one of the wines at Chaumette Vineyards and Winery, don't be surprised if you stay longer than expected. This Midwest winery offers an authentic destination experience with award-winning wines, a full-service restaurant, hiking trails, event spaces, and overnight accommodations. At the tasting bar, take in views of the sweeping hills, expansive property, and 30 acres of grapevines.
Chaumette Vineyards and Winery serve over a dozen varietal wines and blends. Try the award-winning Unoaked Chardonel, a white wine with notes of lemon, grapefruit, and apple. The medium-bodied Chambourcin Reserve offers hints of baking spices and earthy aromatics if you prefer red wine. Pair your wine with a meal at the winery's top-rated restaurant, the Grapevine Grille, featuring a range of entrees, flatbreads, and sandwiches.
Location: 24345 State Route WW, Ste. Genevieve
Hours: Tasting room is open from 11 a.m. to 5 p.m. Thursday to Saturday and 11 a.m. to 4 p.m. on Sunday
Sand Creek Vineyard
This family-owned winery in St. Francois County offers flavorful wines and a picturesque view of the region's rolling hills. Established in 2002, Sand Creek Vineyard has a spacious tasting room with a large stone bar and cupola on top of the building. Step out onto the veranda, where you can feel the warm sunshine or cozy up next to the fire pit while taking in the scenic view. In the warmer months, the winery hosts live entertainment on Saturdays.
Sand Creek Vineyard has 16 wines available, ranging from a dry rosé to a sweet chardonel. Some favorites include Plank Road Red, Becky's Blush, and Son of a Peach. On hot summer days, try a frozen wine-a-rita for an icy chill. The winery also serves draft and bottled beer. Sand Creek Vineyard serves pizza, sausage, cheese, crackers, and chocolates to pair with your wine if you get hungry.
Location: 3578 Sand Creek Road, Farmington
Hours: 11 a.m. to 6 p.m. Monday and Wednesday to Friday; 11 a.m. to 8 p.m. Saturday; noon to 7 p.m. Sunday; closed Tuesday
Twin Oaks Vineyard and Winery
With a tasting room right in the middle of the vineyard, you'll see just how the wine gets made at Twin Oaks Vineyard and Winery. The winery offers daily tours of the 25-acre vineyard, where you may see family members picking grapes during harvest time. Plan to come for lunch when you can sit in the shade under the 400-year-old oak trees that give the winery its name. You can also enjoy views of the vineyard and a lake from the patio or tasting room.
Twin Oaks serves dry white, dry red, semi-sweet, sweet, dessert, and specialty wines. Some wines offer clean, crisp flavors, while others have hints of chocolate, coffee, or cocoa. Try the award-winning Two Brothers rosé, which features an intense, fruity blend. The winery also serves cold beer and premium cocktails from a full bar.
Location: 6470 Highway F, Farmington
Hours: 11 a.m. to close from Friday to Sunday
Now you know all about the Route du Vin Trail and the beautiful wineries you can experience along it. Which one do you plan to visit first? Are there any other wineries in the area you'd recommend trying? Contact us to let us know. If you ever need a new car, stop by and we will help you find the right used car.