Assignment Content
At CarSmart of Farmington, we absolutely love going out for brunch. There's something about enjoying an omelet filled with cheese and different veggies or smelling a stack of pancakes topped with blueberries and whipped cream as they arrive at your table. If you're looking for an amazing place to enjoy brunch in Farmington, consider visiting any of the locales listed below. You definitely won't leave hungry or disappointed.
The Factory Diner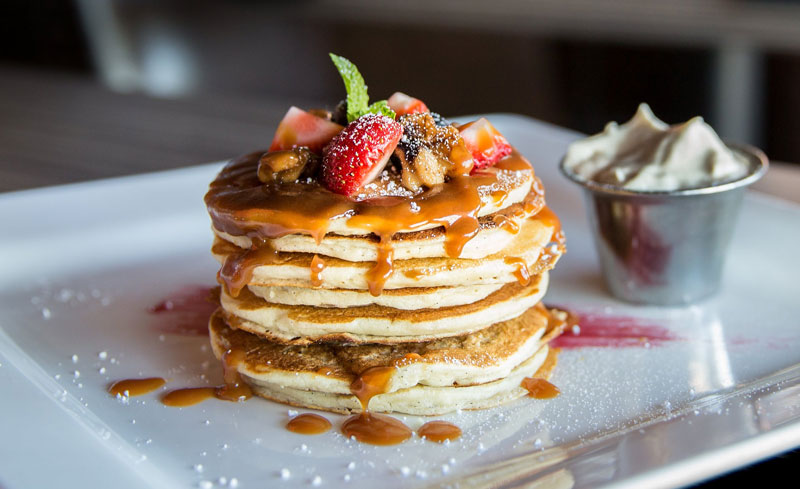 Image via Pexels by ash-122861 Images
If you're looking for a place that is known for its great food, reasonable prices, and friendly staff, you've found it in The Factory Diner. Located right in Farmington, this restaurant is open from 6:30 a.m. until 3 p.m. every day and serves a wide variety of breakfast fare, gourmet burgers, healthy salads, and specialty sandwiches.
For breakfast, you can choose from their various egg platters, country skillet breakfasts, or fresh omelets served with hash browns and toast. Try one of their house specials like the Hungry Man Breakfast served with two eggs, biscuits and gravy, hash browns, and your choice of bacon, sausage, or ham. You can also order their Breakfast Burrito, which is a tortilla filled with scrambled eggs, bacon, sausage, hash browns, and cheddar cheese.
Riverside Grill
Riverside Grill is a locally owned and operated homestyle restaurant that serves breakfast, lunch, and dinner in a family-friendly atmosphere. They are proud of their high-quality, homemade food that is prepared fresh when you order. Breakfast, lunch, and dinner are served seven days a week and they also feature daily specials such as Ham and Beans on Mondays, Chicken and Dumplings on Wednesdays, and of course, All-You-Can-Eat Catfish, Chicken, and Shrimp on Fridays.
Their full-serve breakfast menu includes breakfast platters like fluffy biscuits and gravy served with homemade sausage, corn beef hash topped with two eggs and served with toast and jelly, and chicken and waffles made with a large fluffy Belgian waffle and three crunchy chicken strips. All of their omelets are made fresh to order and served with hash browns and toast with jelly. If you want something simple to hold you over until dinnertime, you can order from their breakfast a la carte menu that features items like eggs made your way, French toast, raisin toast, or a bagel with cream cheese.
Along with their made-from-scratch breakfast dishes, they also serve specialty salads, delicious tortilla wraps, Texas toast club sandwiches, and southern entrees like catfish and country fried steak. For those who prefer traditional American fare, Riverside Grill also has hand-cut rib-eyes, chicken entrees, pasta dishes, and American burgers.
Riverside Grill is located in Park Hills, Missouri, and is open six days a week from 7 a.m. to 8 p.m. You can dine in, carry out, or even take advantage of their drive-thru service.
The Kozy
Purchased in 2013 by Dona and her two children, The Kozy has become a place where your family becomes a part of their family. With over 30 years of experience in the restaurant industry, Dona renovated the restaurant with the help of her adult children, who both have a background in construction and real estate. The Kozy has become one of the most popular breakfast gathering spots for the community.
If brunch is what you're looking for, The Kozy has an extensive menu full of eggs, pancakes, waffles, and so much more. The Kozy Cakes include your choice of strawberry, blueberry, peach, or chocolate chip pancakes sprinkled with powdered sugar and served with bacon, sausage, or ham. The Farm Skillet is a huge portion of hash browns topped with two eggs and sausage topped with either gravy or cheese sauce and served with toast.
You can't leave without trying their Stuffed French Toast that is more like dessert than breakfast. It's filled with pineapple, pecans, and cream cheese, and served with either strawberries, blueberries, or peaches, along with a side of bacon, sausage, or ham. They also serve homemade quiche, eggs Benedict, and a selection of omelets complete with your choice of sourdough, white, wheat, rye, or multigrain toast.
Along with their sweet and savory breakfast entrees, The Kozy also serves an extensive lunch and dinner menu and assorted daily specials like fried chicken and mashed potatoes, fried shrimp with hand-cut fries, and smoked barbecue pork steak. The Kozy is located in Bloomsdale, Missouri, and open Sunday through Thursday from 6 a.m. until 8 p.m. and Friday and Saturday from 6 a.m. to 9 p.m.
Blackbird Cafe and Bakery
Focused on good food and family values, Blackbird Cafe and Bakery is a mom and pop restaurant over in Potosi. Since 2010, owners Pat and Joe have run the restaurant with the help of their grown children and others in the local community. Blackbird serves breakfast and lunch and also offers catering for group meetings and special events.
Breakfast, which is served Wednesdays through Saturdays, includes a wide range of all your morning favorites. Enjoy pancakes with blueberries, chocolate chips, or pecans, as well as other baked breakfast fares like waffles and French toast. They also serve amazingly delicious breakfast entrees like egg and cheese sandwiches on grilled bread with your choice of bacon, ham, or sausage. You also may want to order the two-egg omelet with cheese and your choice of breakfast meat and a side of toast. Add spinach, onions, mushrooms, and tomatoes for a dose of veggies with your morning meal.
If breakfast is not your thing, then you'll love the scrumptious salads, tasty wraps, tender chicken, and many other entrees on their lunch menu. Try one of their appetizing burgers, like the double bacon cheeseburger, or one of their tasty sandwiches, like the chicken salad or Reuben on rye. You can always simply order an appetizer or two, such as fried cauliflower, fried mushrooms, or loaded fries.
The Blackbird is open Tuesday from 11 a.m. until 3 p.m., Wednesday through Friday from 8 a.m. to 5 p.m., and Saturday from 7 a.m. until 3 p.m.
Now that you have a good idea of the various brunch places located near Farmington, which one will you be visiting next? Is there a favorite of yours that we didn't add to this list? If so, we'd love to hear about it. Simply contact us to let us know. We're always looking for new diners and restaurants to visit in the Farmington area.