Following the correct steps when selling your car, SUV, or truck can make the process a lot easier. It can also help ensure that you get the best price for your vehicle, which can boost your budget for your next car. We've put together some useful tips to consider if you're selling your car privately, and explained why it may be more straightforward for you to sell your vehicle to an auto dealership.
Preparing to Sell Your Car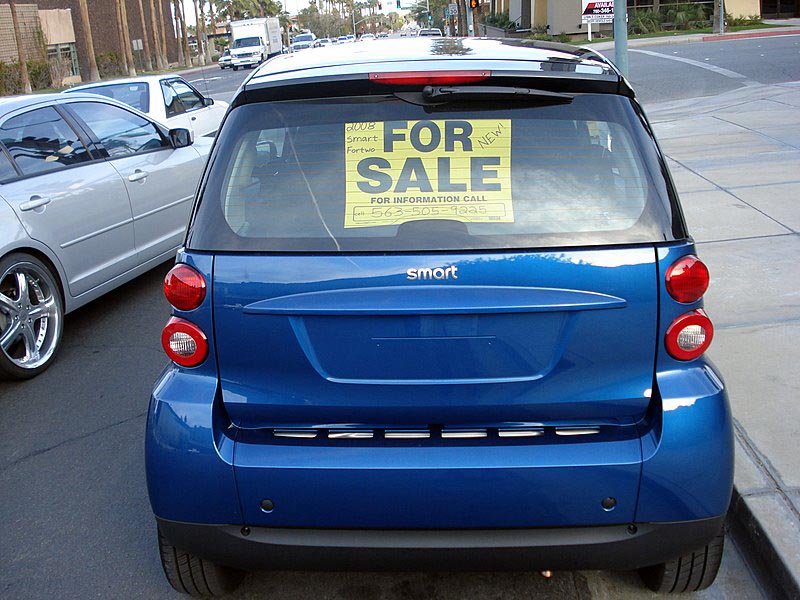 Image via Flickr under CC BY 2.0 by Joe Wolf
First impressions make a big difference, so it's important to present your car in good condition when you sell it. Whether you're planning on looking for a private buyer or selling to a dealership, make sure the interior and exterior of your car is clean and well presented.
It may also be a good idea to have your vehicle checked out by a mechanic so that all routine maintenance and small repairs are completed. While this may mean you have to spend a few hundred dollars, it could help you get a much better price for your vehicle when you conclude the sale.
Finally, gather together all relevant documentation for your car, truck, or SUV. This should include the title, owner's manual, and any record of maintenance you have. Don't forget to collect any additional accessories, such as extra key fobs, since they can prove helpful if you're trying to negotiate a better price.
Decide on a Price
If you're selling privately, you'll need to determine what price you want to sell your vehicle for. There are many online tools you can use to get the market value based on the make, model, and year of your car. You'll also need to take into account the condition its in. For example, if your seven-year-old SUV requires some significant repairs, you may need to reduce your asking price to attract buyers.
Remember that potential buyers have the same opportunity as you do to consult online pricing tools. Therefore, it's important for you to be realistic when setting your price to ensure that your sales notice generates some interest.
Once you've decided on a price, you can post your sales ad on various online auction sites. Alternatively, you may be able to find a buyer through word of mouth, such as a friend or family member.
Legal Requirements
If you're selling to a private buyer, you need to provide them with a properly assigned certificate of title. This needs to include the odometer reading and be signed by both parties. If they're a Missouri resident, you also need to supply them with a vehicle inspection report that's no older than 60 days. In addition, you need to complete a lien release form. In some parts of the state, including St. Louis, you also need to present an emissions inspection for your vehicle that's no older than 60 days.
Once the sale is concluded, remember to remove your license plates from the vehicle. You should report the sale to the Department of Revenue within 30 days.
Benefits of Selling to an Auto Dealership
If all of this sounds too complicated, you may want to consider selling your car to a dealership. There are many advantages to doing this, but perhaps the biggest benefit is the simplicity of the process. You won't have to worry about locating a private buyer, setting up appointments for them to inspect your vehicle, and arranging the legal paperwork and financial transactions with a stranger. Instead, all you need to do is bring your vehicle to the dealership and they'll make you a cash offer.
Since dealerships handle a large number of financial transactions related to auto sales, the whole process can be settled quickly. Some dealers will be able to give you cash or a cheque the same day. In addition to the speed of the deal, you also have peace of mind knowing that you're doing business with a reputable company rather than a private individual. Auto sales experts will be able to take care of all the paperwork requirements for you, making the process much easier than if you were organizing the legal documents with a private purchaser. For even more convenience, some dealerships will offer to collect your car from your home address, or provide you with a courtesy ride home once the deal is completed.
One of the disadvantages of selling privately is that a buyer may pressure you into accepting a much lower price. Given the vast amount of effort sellers put in to attract potential buyers, you may feel like you have no other option but to accept a poor offer. That doesn't have to happen if you come to a dealership, which will inspect your vehicle and make you a fair offer based on its condition. For example, here at CarSmart of Farmington, we'll offer you a market-based price for your vehicle that you can easily compare with third-party calculators if you want to confirm that our offer is reasonable.
Dealerships also provide you with the option of trading in your car for a new model. This may be the best option for you if you plan on immediately purchasing another vehicle. Some dealerships will offer you a better price for your old car as part of a trade-in deal than they will if you simply ask for a cash offer. This is partly because the dealership wants to encourage you to become a loyal customer.
If you're looking to sell your car at a competitive price, contact us at CarSmart of Farmington to learn more about our trade-in deals and other special offers. We have a large inventory of used vehicles from a range of makes, so we're familiar with a broad selection of vehicles and what they're worth. As a top used car dealership in the area, you can trust us to offer you a fair deal for your used vehicle, and a straightforward and transparent selling process. To get the process started, reach out to our sales team today or drop by our showroom, which is open six days a week for your convenience.