Going to dinner and a movie is a nice way to spend an evening, but sometimes you need an activity that's a little more exciting, like solving an escape room's timed puzzle or competing against your partner in a game of ax throwing. If you're looking for a fun way to spend a night building memories with friends and family, Farmington has you covered.
Aesop's Treasury Books and Games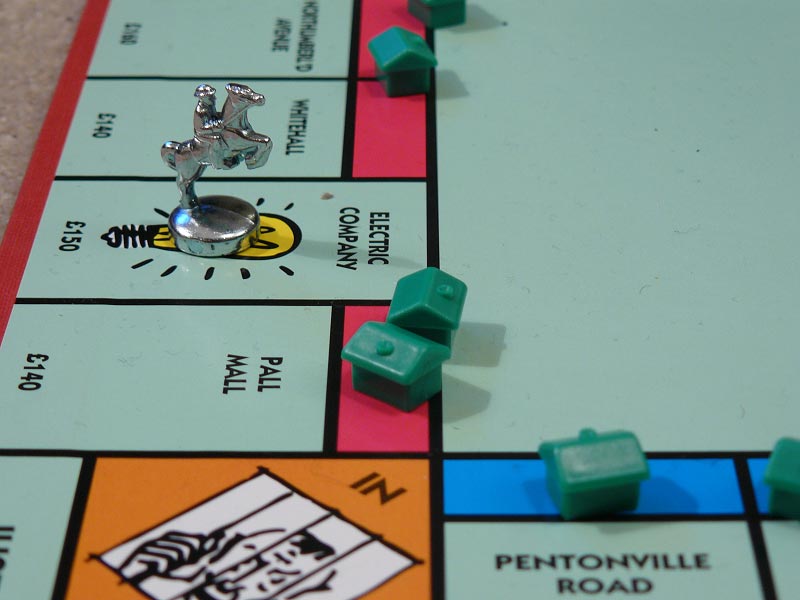 Image via Flickr under CC BY 2.0 by Mike_fleming
Aesop's Treasury Books and Games is an independent retailer of new and used books and games in downtown Farmington. Opened in 2018 and located on the bottom floor of an old shirt factory, Aesop's houses a 1,200 square foot gaming space that seats up to sixty people. Guests are welcome to bring games from home, borrow from the store's library, or purchase them.
Aesop's Treasury houses over 4,000 games and accessories as well as over 12,000 books. A snack bar is located on-site, and Aesop's is open seven days a week from 9 a.m. to 9 p.m.
Outer Edge Escape Rooms and Axe Throwing
Outer Edge is a premier escape room and ax-throwing facility in downtown Farmington, with a second facility located in Cape Girardeau, about an hour and a half away.
Outer Edge Escape Rooms
Outer Edge has both physical and virtual escape rooms for its guests to enjoy. A secret plot is hidden within each room, and your group's mission is to reveal it. Armed with a series of riddles and puzzles containing hints, clues, and strategies, your group will work together to try and determine how to break out of the room in under an hour.
Physical Escape Rooms
Physical game rooms are limited to ten people, but Outer Edge can accommodate larger groups if you let them know in advance.
Virtual Escape Rooms
Virtual game rooms are limited to four people, with no exceptions, and you can choose from twelve different rooms. Several levels of complexity are available, ranging from easy to difficult. Participants wear virtual reality goggles, which fit easily over glasses, while they try to solve the puzzles and make their escape.
Costs vary by escape room, but kids eight and under are always free, making a night at Outer Edge a family-friendly activity for those with young children. While three clues are included in your admission fee, unlimited clues are available as an add-on purchase. During your challenge, only members of your group will be in the room with you, meaning you won't be placed with people you don't know. Walk-ins are welcome on the weekends, and reservations are required Tuesday through Thursday. Check the website for hours.
Outer Edge Axe Throwing
Ax throwing is one of the oldest sports in history, and it makes a fun addition to any game night. When you arrive at Outer Edge Axe Throwing, you'll be assigned an Axe Master, who will provide coaching and help with scorekeeping. Your games will start after you complete an orientation and practice round. Games include three rounds, and each participant throws their ax five times per round.
Participants must be twelve years or older, and closed-toed shoes are required. Drop-in guests are welcome, but those with reservations are given precedence. Book online to assure your spot.
Farmington Family Fun Center
The Farmington Family Fun Center houses an arcade, bowling alley, bounce house, bumper cars course, miniature golf course, and roller skating rink. It easily accommodates large groups but is also a good place for a family game night or a couple's night out.
Arcade
The arcade features the latest in video games as well as a few iconic favorites. Play the games to earn tickets and exchange them for prizes at the arcade store.
Bowling
The bowling alley has 22 lanes and features automatic scoring. Extreme bowling, with music and black lights, occurs every other Friday and Saturday night.
Bounce House
The 70-foot bounce house is perfect for a family game night. Kids 58 inches and under are allowed to enter.
Bumper Cars
Bumper cars are available for those 44 inches and taller. Kids under 44 inches can ride but must be accompanied by an adult.
Miniature Golf
A nine-hole miniature golf course is located inside the complex. It features elevated greens, a waterfall, and a koi pond.
Roller Skating
Roller skating is available for all ages. Black lights and music provide a fun, stimulating environment. Seating is available by the rink if you'd rather sit and watch the action.
Outside food and drink aren't allowed at the Farmington Family Fun Center, but a restaurant is housed on-site. It serves a variety of items, including hamburgers, grilled cheese sandwiches, chicken fingers, hot dogs, pizza, and more. A banquet room is available for larger groups. Prices vary according to the activities you choose to do, and hours fluctuate throughout the week, so check the website before you go.
Create Your Own Game Night
If you'd rather enjoy a game night at home, it's easy to create your own. Grab takeout from one of the area's restaurants, such as a pizza from the Farmington Pizza and Kitchen or a taco plate from El Tapatio. Then swing by Gamers Bazaar, a local gaming shop that sells new and used board games, magic cards, and video games.
Of course, a simple game of Monopoly or checkers at the kitchen table is sometimes the perfect choice for a low-key night of fun. Game nights don't have to cost a lot of money or even involve leaving the house. Sometimes it's nice just to pull out some games, pour a cup of coffee or a glass of wine, and enjoy a night at home with friends and family.
We hope our list of game night ideas helps you plan a fun evening and create memories that'll last. If you know of a place we've overlooked or have an idea you think would be a good addition to our list, we'd love to hear it. Just send us an email or give us a call at CarSmart of Farmington. We look forward to hearing from you!